3 categories of features:
 Multiple possibilities
Communication and applications
Landing page to present the program, community voting, jury selection…
Collaborative space and customer support
News feed, trombinoscope, events calendar, project portfolio, team workspace, step-by-step path, access to resources, deliverable repository, mentor follow-up…
Project management and analysis
Dashboard, data analysis and statistics of team progress, management of evaluation sessions, animation of the mentor community.
schoolab inject
Key partners
Collaborative innovation dimensions in the platform
Digital platform
Program Space
The digital platform offers an intuitive and engaging experience for users. Thanks to a web-app 100% customized to your branding, you can present your strategic objectives and attract innovative and disruptive projects. Engage your community by participating in the experience and give them the opportunity to vote for the most convincing projects.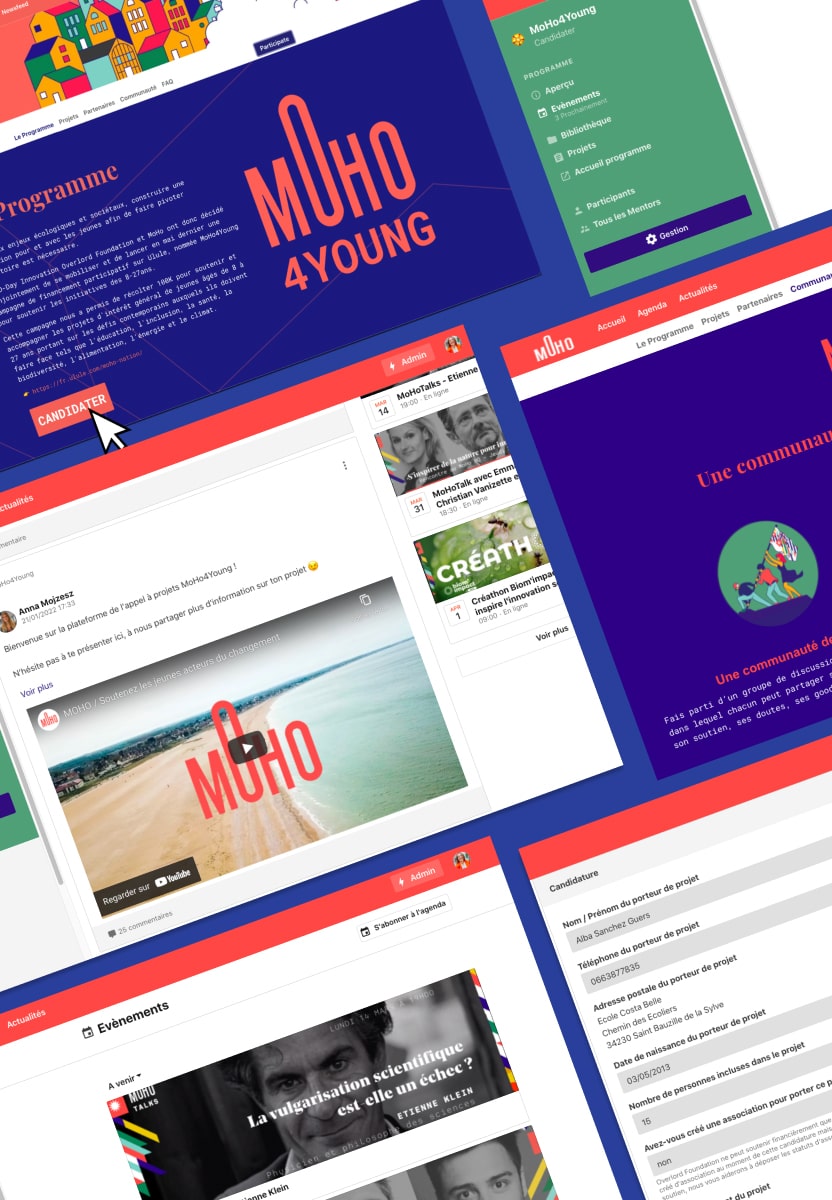 Digital platform
Project space
Engage your community on the digital platform with an events calendar, inspirational news feed, integrated chat and a library of key resources. Accompany project teams and help them create value with a step-by-step pathway of resources and deliverables to submit. Team are continually inspired to act and move forward.
Digital platform
Management Space
Track your teams' project progress and engagement them in real time. With a dedicated dashboard, you can configure and create experiences tailored to everyone: juries, mentors, participants. A dedicated customer support will help you get started with the platform. The platform will be configured to your needs.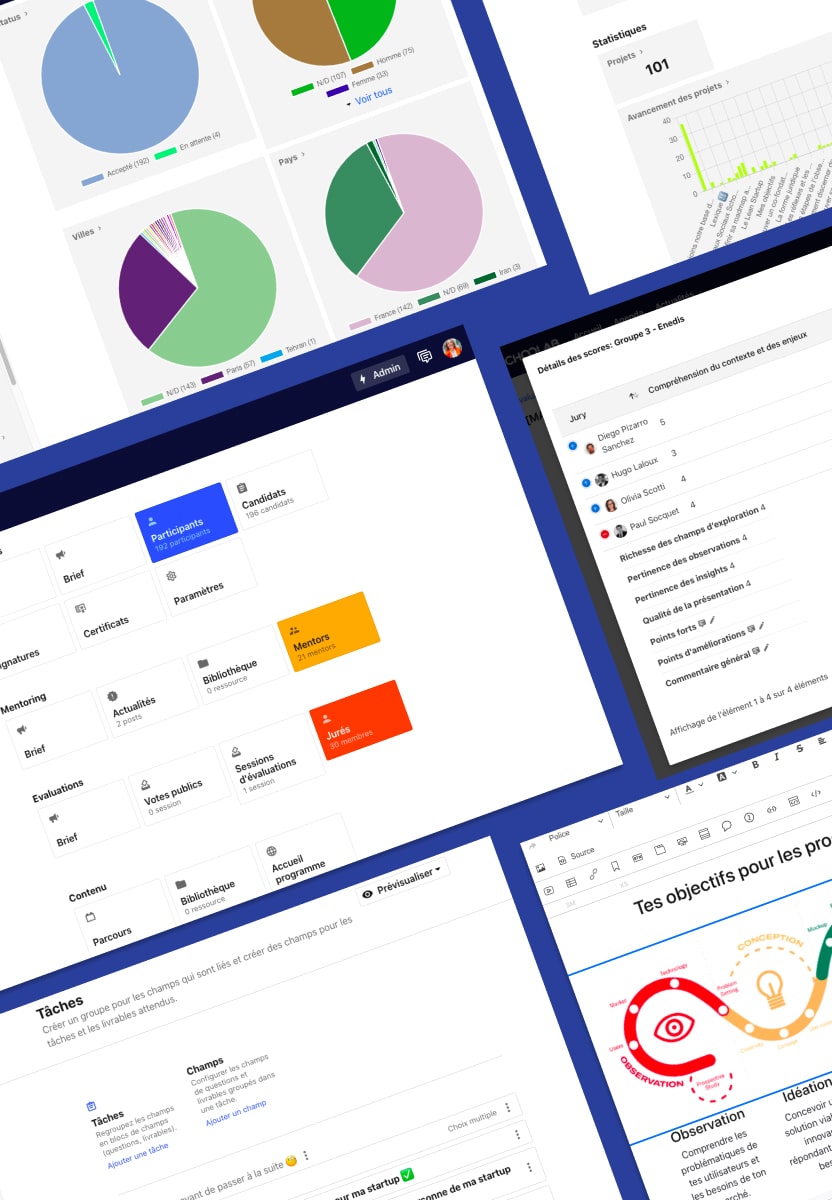 Digital platform
Jury Space
Organize jury sessions at different times during the program by opting to use the platform. The candidates selection process is facilitated by:
> Scorecard.
> Weighted evaluations.
> Automatic ranking.
The platform also allows you to leave automatic feedback to participants at the end of the evaluation session.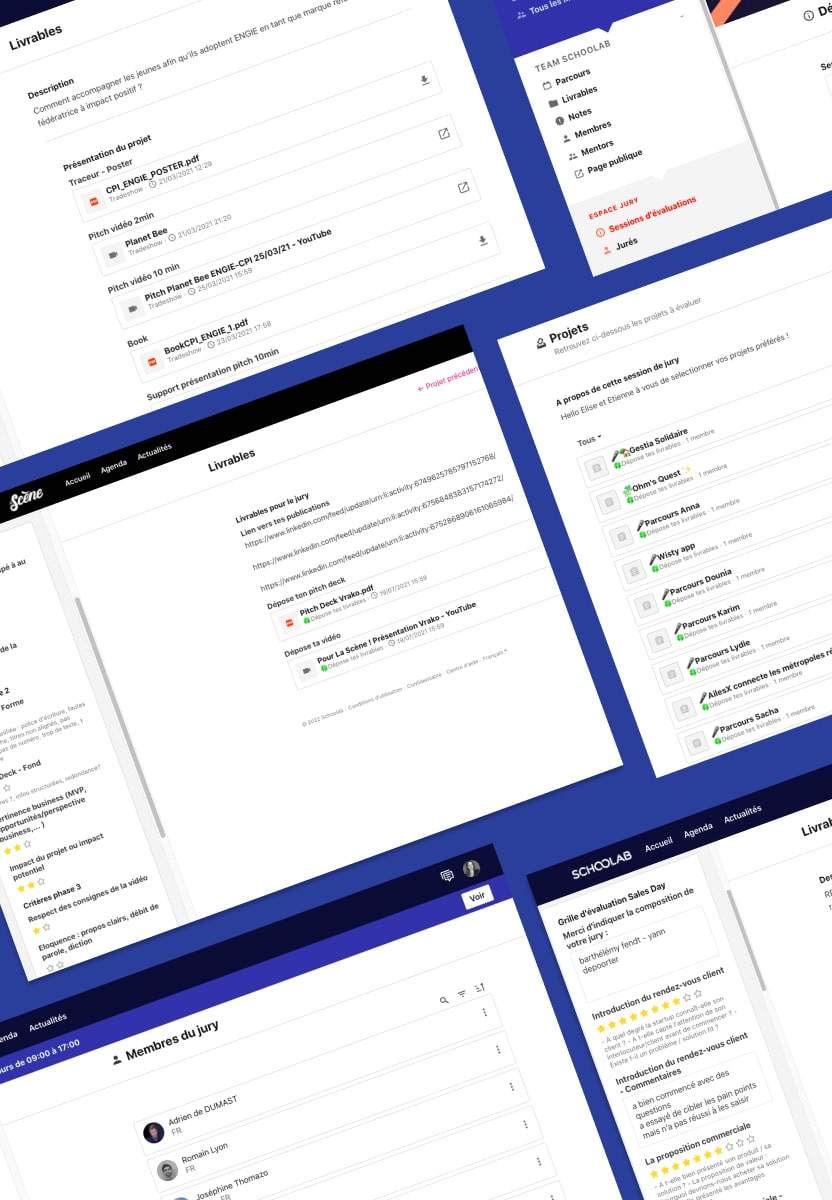 Digital platform
Mentoring Space
Provide your mentors with a simplified experience. The digital platform includes a dedicated space for the mentor community that provides a clear view of project progress. Mentor/team communication is enhanced with a simple chat/visio system and the ability to book coaching sessions. Mentors encourage participants to improve by providing feedback and a To Do list at each stage of the program.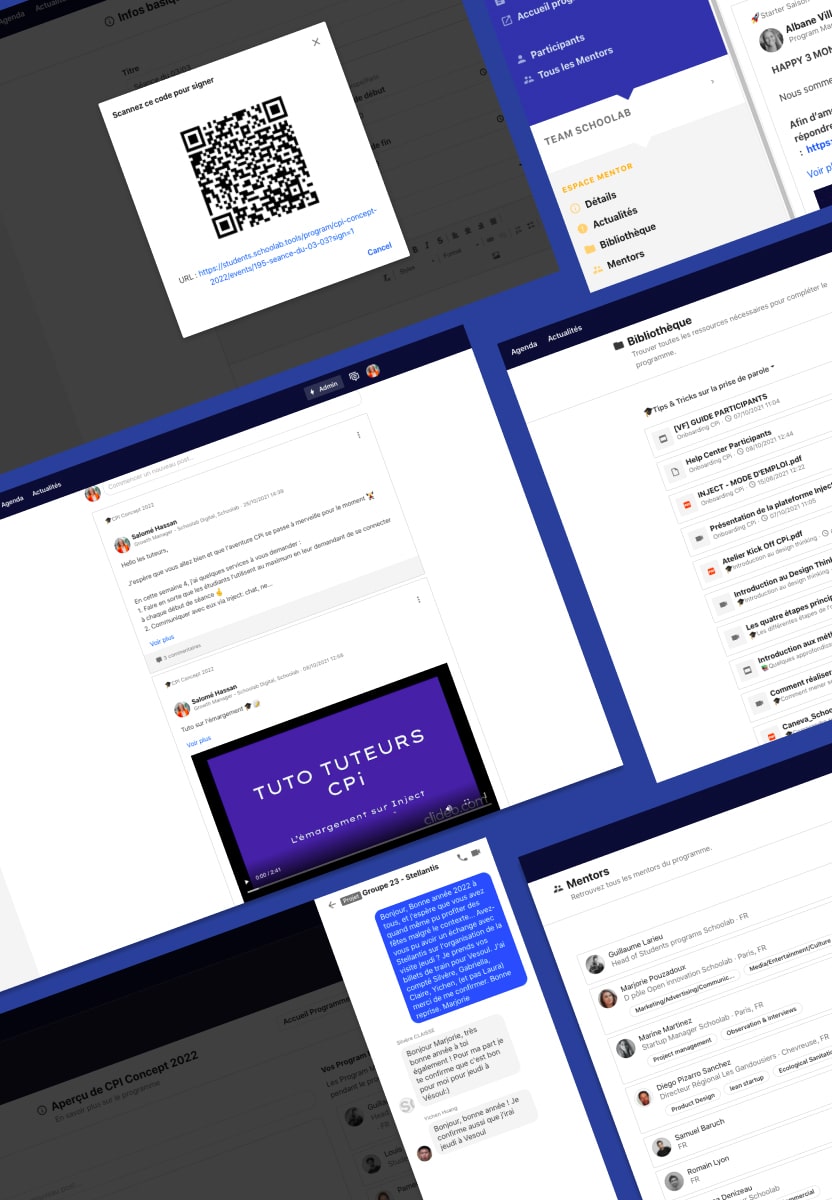 schoolab inject
The digital platform created for collaboration
A collaborative French platform, available unbranded and compliant with the IT requirements of large companies: dedicated infrastructure, high level of security, data protection for European companies (RGPD).
schoolab inject
Features that make the difference
Multi-devices
Access your platform from all your devices (computer, tablet, smartphone) thanks to a responsive web-app.
Multilingual
Translate interfaces and content manually or automatically.
Security
Simple and secure SSO access. Data hosted in Europe. Solution audited and compliant with the RGPD for European compliance.
Dashboard
Export or track in real time your key indicators to measure engagement, according to your predefined criteria (by type of person, position, sector, city, country).
Newsletters
Schedule emails and enable automatic notifications to boost participant engagement.
Selection process
Segmentation of projects by jury session, configuration of the number of private sessions, evaluation forms and public polls.
The different formats proposed by INJECT, The Schoolab platform for innovation
OPEN INNOVATION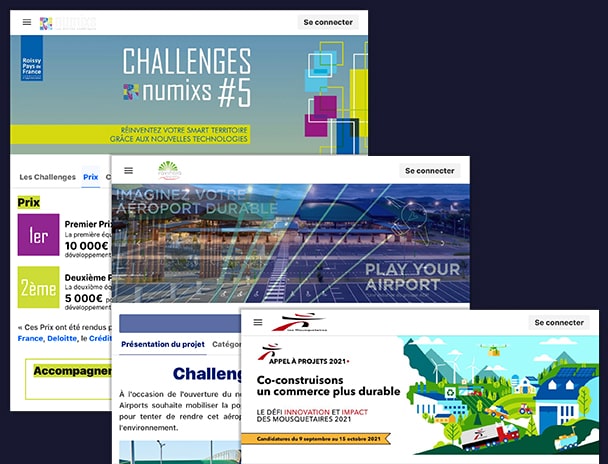 The Open Innovation challenge landing page presents:
> The Open Innovation Challenge objectives.
> The schedule.
> The partners.
> The rules of the competition.
The submission of applications from students, start-ups and companies is collaborative.
The teams are supported from the selection to the end of the challenge.
HACKATHON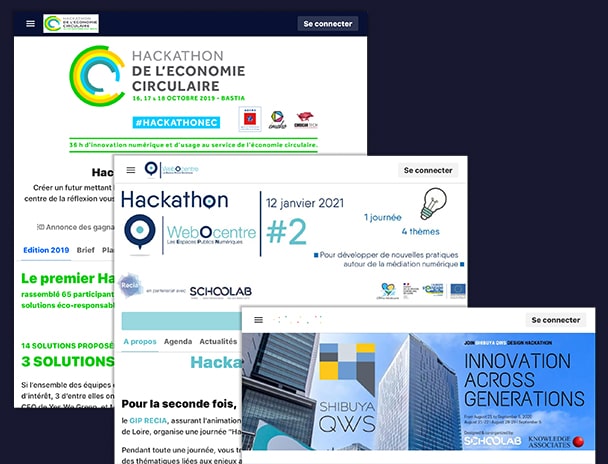 Whether the Hackathon is in person, remote or hybrid candidates elect their teams online.
The platform provides direct access to all key information about the event:
> Brief.
> Prizes.
> Partners.
> Rules and regulations.
> Agenda.
> Deliverables.
> Resources.
> Trombinoscope of all coaches organized by their expertise.
Incubator & Accelerator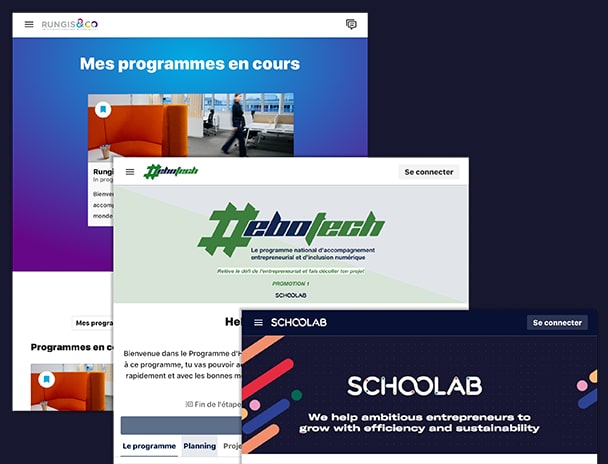 Startups are connected with experts and mentors and exchange with other projects. Users have access to online coaching, promotional events and can take action by completing the deliverables of the program modules.
WORKSHOPS, TRAININGS & COMMUNITY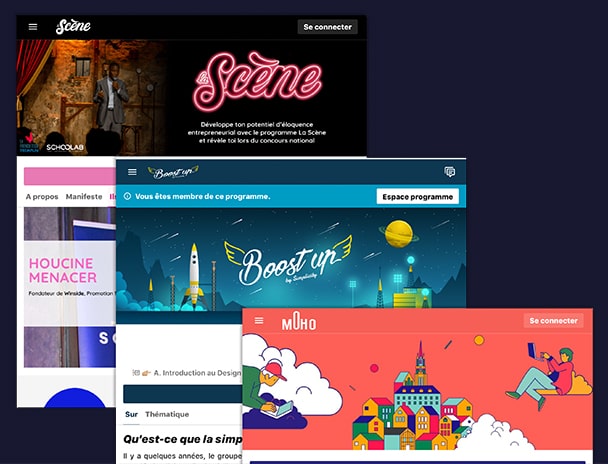 Teams and talents are engaged in workshops and trainings on the platform. Online content and replay are centralized. Users of the platform contribute to discussion threads, share best practices and provide feedback to their peers.